Photovoltaic offer for companies
We work with many institutions and businesses, offering state-of-the-art photovoltaics for businesses to significantly increase savings. Investment in renewable energy sources is also a great way to reduce environmental impact. We accompany customers at every stage of implementation of green solutions that contribute to better acquisition of heat or electricity. Based on the results of preliminary energy and technical audits, our company will undertake full installation of photovoltaic systems in any location, selected by the entrepreneur.
Photovoltaic installation services
Our photovoltaic offer for companies includes professional installation – we install photovoltaic systems for flat and trapezoidal roofs on all types of large format facilities. Although the registered office of our company is located in Szczecin, we are looking forward to doing business not only with customers from the Zachodniopomorskie Voivodeship. We are open to cooperation with contractors from all over Poland.
We guarantee timely and efficient implementation of orders, maintaining the highest quality of services and the use of proven high-end materials. We provide the necessary consultation, advice and support at every stage of the project.
Photovoltaics for companies is a real way to reduce operating costs of your business – take advantage of our offer to ensure that the system will be selected and installed correctly.
Photovoltaics for business is a reliable way to reduce the cost of electricity bills. While investing in PV systems for businesses, you get a guarantee of return on investment within a few years, and the costs of maintenance and operation of the installation – at the time of assembly – fall to an absolute minimum. This is a method for complete independence from the ever-increasing electricity prices.
Photovoltaics for companies is also a guarantee of raising the prestige of the company – both in the domestic market and abroad. The high ecological awareness of society makes potential customers more willing to trust companies that contribute to environmental protection by using renewable energy sources and thus represent the highest level of professionalism.
Roof installation with a capacity of 1.3MW
See what an example photovoltaic installation on the roof of an industrial plant looks like.
Advantages of photovoltaics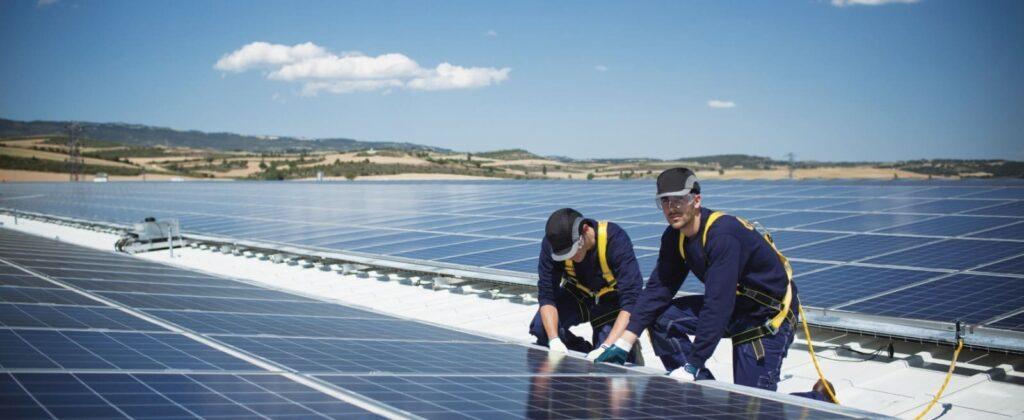 Photovoltaic installations – why are they profitable?
More and more businesses are choosing to set up optimal photovoltaics for companies, thereby investing in the RES technology, which is the best way to effectively reduce greenhouse gases into the atmosphere. Ecological care of the planet can distinguish the company from the competition, although it is not the most important argument for the installation of solar panels. Photovoltaics for companies will allow you to achieve greater independence – the activities of the plant will therefore not be dependent on external transmission of the installation. Consequently, the problem with serious losses associated with power outages will disappear. Thanks to that the investment is connected with very high return over several years. Thanks to RES every company will reduce costs of its business activity – own power production not only increases profits but also makes company development independent from possible energy increases in the future years.
Get in touch with us
Contact details
Reca Group Sp. z o.o.
ul. Zielonogórska 31
71-084 Szczecin, Poland
NIP 7811881104
KRS 0000436894